From 23-26 August I attended what I would describe as the best, most diverse, engaging, ecumenical, Christian gathering event I have ever been to. Greenbelt is an arts, faith and justice festival held in England that has now run consecutively for 40 years. This was my second time, the first being in 2011.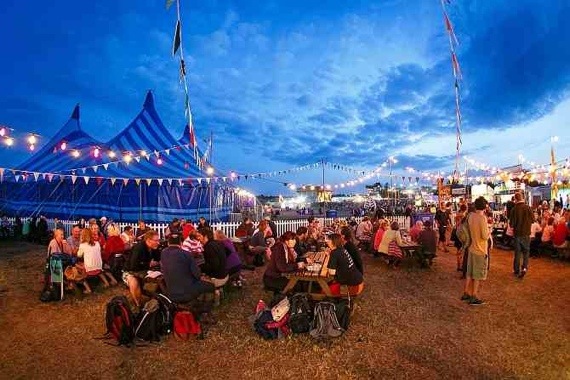 In this post I will explain what Greenbelt is, and then I'll go through the things I did at Greenbelt this year as a way to show why I think it's such a good time, and perhaps as a way to tempt you into joining me there sometime.
The thing that amazes me the most about Greenbelt is the amount of stuff on offer, and the diversity of the offering. From 5pm Friday until midnight Monday, there are more than 500 things to see, do, hear, watch, or take part in.
The programme is available as an app for smart phones and tablets, which makes it easier to keep track of the things you really want to do. While I did a bit of lounging with friends, I had a pretty busy schedule of things to do, and managed to get to about 20 of the more than 500 things on offer. I find this amazing: due to the vast array of options, it would be very unlikely for two people to have the same Greenbelt experience. At any given time there were usually several things on I would have been keen to see.
The categories of the more than 500 things on offer are:
Talks and ideas
Performing arts
Visual arts
Literature
Comedy
Music
Children and family
Youth
Worship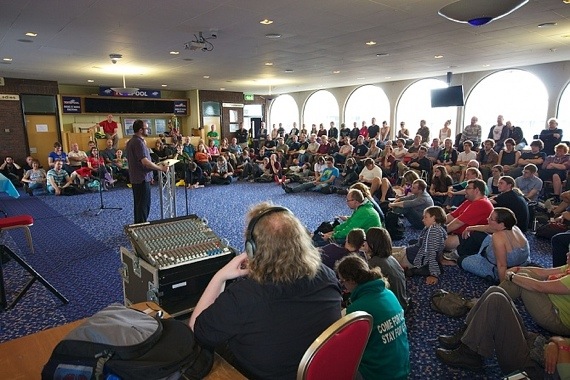 I also enjoy the various venues that create different vibes, for example, you can be in a group of a few thousand people listening to a big-name speaker, or in a small space reflecting on art, or in a marque with a few dozen people listening to a panel of people discussing an issue from various angles, or listening to music in a small venue over food, or sitting on the grass in the sun watching a concert on the main stage.
There was also a wide range of communal/gathered worship expressions facilitated from contemplative spaces to large singalongs, contemporary to traditional and lots in between.
Both times I have been I have stayed in a tent at the venue (which is a racecourse at Cheltenham). I read somewhere that 95% of Greenbelt attenders stay in the tent village. This makes it easy when things finish late at night as its just a short strol to bed.
The food is also a highlight: there are so many different food stalls making it easy to get healthy and ethical food from a global range of tastes (there are plenty of unhealthy food options too). My favorite most freqented food stall was the one selling fresh fruit salid and smoothies.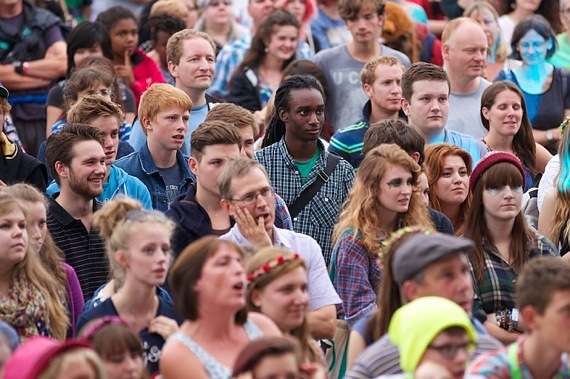 I heard Greenbelt gets about 25,000 people attending. One thing that has stood out to me both times has been the diversity of people in terms of age: it's a place for children and families as much as it is for single people and seniors. Another thing, and this might be a United Kingdom thing, but I saw lots of people in wheel chairs and mobility scooters and there were temporary ramps all over the place and it seemed normal (in my experiance this wouldn't be normal in New Zealand).
It's a long way for a New Zealander to go for a festival, and while the timing of my trip to the UK was planned around the timing of Greenbelt, that's not all I have done while being away from home. I also realize it's quite a consumerist activity to travel so far to attend a festival in which you pick and choose from an extensive menu, but this is why I do it and how I justify it to myself:
I haven't found anything else that re-creates me in the way Greenbelt does.
The content, the art, the music, the people, the diversity: I would recommend Greenbelt to anyone who is interested in engagement with Christian spirituality in a way that will be educational, challenging, social, and refreshing. If I was able, I would go to Greenbelt every year. Maybe one day there will be something like Greenbelt in New Zealand…
The things I did at Greenbelt this year
The list below shows how I filled up my time, full details are on the Greenbelt website. Recordings of all talks are available on the Greenbelt website too.
A talk by Katherine Sarah Moody called "Paul as radical political theologian? Laying down identity and taking up arms."
"Saint Paul is a controversial figure. His letters have been used to justify some of the most oppressive forms of Christianity. But Paul also opens up the possibility of a revolutionary political collective. He calls for the creation of communities that must die to the law, lay down identity, and take up arms."
A talk by Abdul-Rehman Malik called "looking for Allah at 33 revolutions per minute: a musical journey."
"With a radical monotheism that sometimes confounds its sister faiths, Islam's conception of God can seem inaccessible or even, to some, devoid of humanity. Cue the band. Abdul-Rehman Malik will take us on a musical journey to find how believers have expressed and found Allah through music."
A talk by Rose Hudson-Wilkin called "What good is a Church in the inner city?"
"The pace of life is often fast moving in the city. It can be a place of noise, hustle and bustle. Often a place where one is anonymous – a "dog-eat-dog" world. This talk will explore the role of the church within this context, enabling those who are lost to recognise "that life begins…""
A talk by Vicky Beeching called "Being real in a virtual world."
"What does it mean to truly be an individual in the digital age? Do Twitter and Facebook make us more ourselves? Does social media plunge us into an existential crisis, or drown out our need for one? Could monastic disciplines be more crucial today than ever?"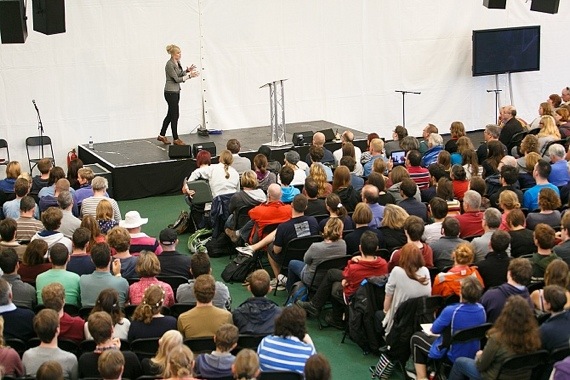 A panel discussion with Symon Hill, Jim Wallis and Sara Hyde called "Battle of the visions: if you ran the country and to choose where your major influence came from, would it be Faith, Arts or Justice?"
"Panellists on the stage pitch their position and you choose a side. They question each other, you question them, and by attracting the largest crowd, they win."
A talk by Kip Greshim called "Desperately trying to control the universe."
"Kip takes us on an investigative journey through some artists' obsessions, a search for the universal in the particular, a pile of sweepings from the studio floor."
A talk by Laura McAdam called "Putting women in their place: developing gender equality worldwide."
"Staring up at the glass ceiling and down into the wage gap, at women wearing mitres and men wearing stilettos. On a bewildering global platform gender equality has never been so important. This talk looks at rural Indian communities fighting against injustice right through to our western forms of feminism."
Viewing the Sokari Douglas Camp sculpture exhibition called "All the world is now richer."
"Using life-size figures dressed in period-specific clothing, Sokari Douglas Camp represents the road to the abolition of slavery, bringing dignity and strength to the people represented, and demonstrating the social and economic legacy of the pre- and post-liberation eras."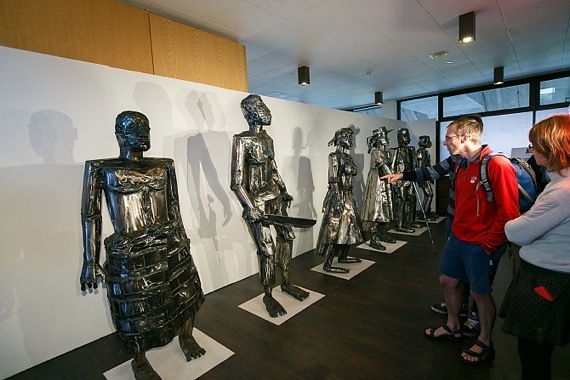 Viewing Nicola Green's exhibition called "In seven days."
"An exhibition telling the inspiring story of Obama's 2008 presidential campaign. After her first trip in August 2008, witnessing Obama's nomination in Denver, the artist Nicola Green realised that the story unfolding was bigger than one visit or than one man. She went on to make six trips during the campaign, ending in Obama's inauguration in January 2009. Seven iconic images: a distillation of all the photographs, sketches and conversations from those visits."
Viewing Micah Purnell's exhibition called "Capital Freedom."
"An installation of antique birdcages that queries the aspirations and freedoms offered by consumer society and the role of advertising.
Come and join us in the Hub as we create a collaborative response to Capital Freedom created by Micah Purnell. An exhibition exploring affluence and consumerism through a series of antique birdcages, each cage challenges the contemporary idea of freedom and we invite festivalgoers to deconstruct adverts and products and question and take some time to consider their real needs and wants."
Viewing an exhibition called "Through a glass darkly" featuring Jake Lever, Gillian Lever, Diane Green, Chris Hoggert, and Claire Watson.
"The author Ben Okri writes: "In a world of contending guns, the argument of bombs, and the madness of believing that only our side is right, we need the voice that speaks to the highest in us." Through A Glass Darkly is a mixed-media exhibition by artists who, whether through a particular faith perspective, soulful or spiritual practice, or therapeutic journey, gift us glimpses of an inner, "underground" world that, for a moment, transfigures the everyday into something other – sometimes magical and visionary, other times challenging. Much of the work draws on the potent and enduring symbols and images of religious art, not to bang the drum of a particular religion but to look for commonality. Drawing on ritual and meditative practice, myth and personal storytelling, it is soulful work that makes connections that speak to the highest in all of us."
Having a drink outside in the sun at The Jesus Arms while Graham Kendrick was leading a singalong in the big top next door.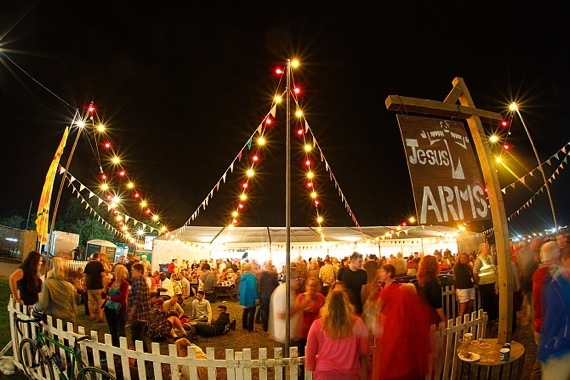 A performance by the London Community Gospel Choir.
"Well known for their up-tempo gospel flair, swing-beat and R'n'B – all in traditional and soulful arrangements, with invigorating choreography and vocal gymnastics – The London Community Gospel Choir have sung with just about every artist who really knows how to find the right voice. Vibrant, energetic and perfect at Greenbelt, this year LCGC are celebrating their 30th anniversary."
10×9 Story Telling "Growing up" and "Love stories."
"10×9 is a storytelling event where nine people have up to ten minutes each to tell a real story from their lives. This is for the nervous, the curious, the kind, the strange and the interesting! Come and share your story, or come and listen…"
The communion service on Sunday morning with thousands of others… Included contributions from MacDuff Phiri, Barbara Brown Taylor, Mary Grey, and the Wild Goose Resource Group.
"Our Communion Service this year is led for us by the Wild Goose Resources Group, part of the Iona Community, based out of Glasgow. We have a long and treasured connection with the folk from WGRG and they have been gently helping to shape our spirituality and liturgy for 30 of our 40 years.
They lead us in a service that will celebrate and give thanks for Greenbelt's story so far, taking us on a musical journey through the popular devotional music of those four decades!
As well as centering on three of the key justice concerns Greenbelt has championed over that time, the Gospel will be a retelling the Parable of the Talents and will focus on God's outrageous generosity.
And, in response, we will be asked to be outrageously generous by giving to the Communion collection – for Trust Greenbelt, and much more besides.
Pick up your communion kit bags on your way in and gather in groups of 15-20."
A talk by Rachel Turner called "Making a meal of it."
"Open door, shared tables, community meals or eating with others? Whether sharing a cuppa and a piece of cake or sitting down to a major meal, join Rachel Turner and hear stories, ideas, passions and headaches about food, hospitality, making friends and growing neighbourhood, over food."
A panel discussion called "What women (in the church) want" with Rachel Mann, Marika Rose, Chine Mbunaegbu and Lucy Winkett, hosted by Vicky Beeching.
"What do women want for a church that has been run by men? How will things change as they become bishops? What would the Christian tradition look like if the patriarchs hadn't eclipsed the matriarchs."
Participation in "The end" by Ikon.
"A heady mix of psycho-theological musing, transformance art and custom-made iconoclastic swagger or, if you prefer, an embarrassing series of clichés put together so ineptly as to be profound."
A talk by Mark Oakley called "An issue! An issue! We all fall down: Same-sex marriage and the people of God."
"The same-sex marriage bill has caused quite a stir and has received a lot of opposition from Christian leaders. Is there a Christian case for same-sex marriage and should the Church be promoting it now? Mark Oakley argues his case."
A talk by Mark Stevenson called "8 principles for winning the future."
"The future is up for grabs. The digital revolution was really just the trailer. Humanity is about to participate in a change as fundamental as the Industrial Revolution. It will change everything for you, your family, your work – and for every institution, every nation. Mark Stevenson will help us make the shift work for us, our families and the planet."
"Beer and hymns"
The Courtney Pine concert.
"No musician better embodies the transformation in the British jazz scene over the past 20 years than Courtney Pine CBE. The ground breaking multi-instrumentalist has led a generation of innovative players who have taken jazz out to a wider audience. Pine has released 15 studio albums and is also a respected television and radio broadcaster, well known for his long running Jazz Crusade radio show on BBC Radio 2. He loves Greenbelt as much as Greenbelt loves him. And this time he's back with his House of Legends album (Jazzwise album of the Year 2012) – a no-holds-barred, euphoric rediscovery and celebration of his Jamaican reggae roots. It's party time!"
Duke Special with band and the Greenbelt Orchestra in concert.
I was introduced to this singer songwriter at Greenbelt in 2011.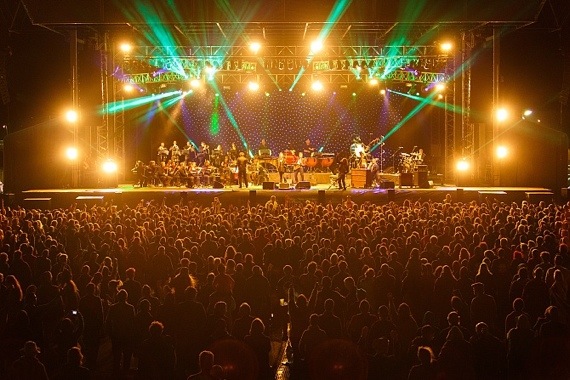 Photo credits: 1st, 4th, 5th, 6th, 7th by Jonathon Watkins, 2nd, 3rd by Drew McLellan, Creative Commons 3.0 License.