My PhD thesis has been signed off and it is now public on the university's online scholarly commons. It is called:
The disconnected church: a critical examination of the communication of the Christian church in New Zealand.
Below is the 500 word abstract from the start of the thesis which gives a concise picture of what it's all about. If you're interested in reading more, you can download the entire thesis from AUT here: http://hdl.handle.net/10292/5922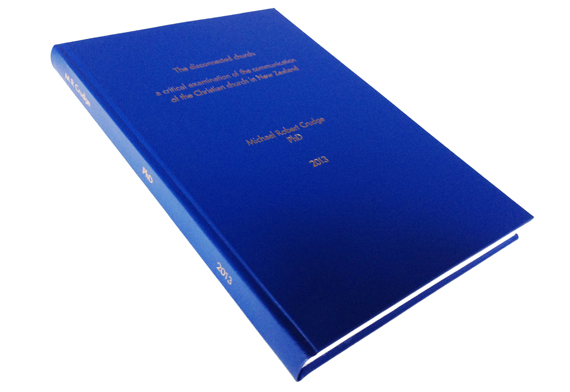 The Abstract
The purpose of my research is to investigate if and why some people outside of the church do not see relevance in the church, and to investigate if and why the church does not see relevance in the point of view of these people outside of the church.  This research project will explore the possibility that this is an instance of two separate groups of people who think they have the same concept in mind when they use the word "church" but may in fact hold entirely different ideas about what "church" is.  In other words this research investigates the issues around communication and the church, and is therefore situated in the communication problem.

My research is based on the proposition that the Christian church in New Zealand is maladapted to contemporary society.  By maladaptation I mean, specifically, that the church is failing to meet its own claim to be relevant, is failing to connect individual's spirituality with their profane daily lives, and exhibits a diminishing capacity to manifest good in the world.  The purpose of this research is to use basic communication theory as the lens to identify and then prove this maladaptation, by first, in stage 1, seeking to discover how some people outside the church perceive the church.

I let the framework of critical studies guide my use of qualitative data gathering through in-depth semi-structured interviewing of people who have never had anything to do with the church, people I define as not being Christianised.  In order to narrow down my sample group, I interviewed people who self-defined themselves as being spiritual.  Through the process of thematic analysis nine "perceptions" of the church were uncovered, which were overwhelmingly negative.  In stage 2, I presented these nine perceptions to a selection of church leaders through the process of focus groups, in order to discover their reaction to how some people outside of the church perceive the church.  This identified a massive gap, or disconnect, in the way the people in each of these two research stages view themselves and each other.  The church representatives in stage 2 expose strong ingroup tendencies which may be negatively affecting the communication and work of the church.  They also expressed the difficulty they face as they identify as Christians in New Zealand.

I suggest two new labels to define the church and its communication (mission) connection within society: firstly, the "disconnected church" which through its modus operandi fosters the historical connection to the past era and attitude I define as Christendom.  A disconnected church (and disconnected Christians) struggle with the realities of how hard it actually is to be Christian, but they do not embrace the fact that many of the difficulties experienced through a negative response from society might actually be the result of how the church and Christians are being Christian.

My second new label is the "connected church", which describes a church through which its modus operandi shows evidence of understanding and appreciation of the current context it finds itself in.  It therefore lives with the tension of both holding cultural change loosely enough to be able to evolve with changes such as leadership structures, community values, and philosophical influences such as post-modernity, as well as retaining theological and spiritual integrity in the essence of being Christian.
That's it! If you've gotten through the abstract and are keen to read more, you can download the PDF here: http://hdl.handle.net/10292/5922 or if you're local, I'm happy to lend you a hard-copy.
Now that my thesis is finished, I'm keen to find ways in which it (and I) can be useful. Through my research I've been able to articulate some stuff that I think every ("western") church could engage with as connections with local contexts are considered, or in other words, as "mission" engagement within society is explored.
My next project could be to make these ideas more accessible. I'll start with a few blog posts on key themes and ideas.
So, what are your thoughts, ideas, critique?…