This is the first time I've used a blog post to promote or advertise an upcoming event. I'm planning on attending this and hope you will consider it too (if you're able to get to Auckland, New Zealand in March 2014).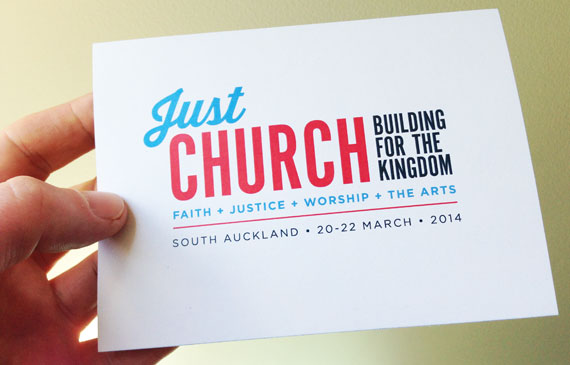 It's being promoted as:
A gathering at the intersection of faith, justice, worship and the arts; to inspire, model, sustain and resource Christian communities in their building for the Kingdom of God.
Some of this language sounds a bit Greenbelt-ish (see my post on that here…), and no wonder, since the person organising this event knows Greenbelt well: Mark Pierson, of World Vision, author, pastor, and New Zealand's leading expert in church worship (beyond the sing-along), to me he's also mentor-turned-friend. But this post isn't to talk up Mark, it's to expose you to the Just Church event:
Thursday 20 March 2014 – Saturday 22 March 2014 at Manukau City Baptist Church, South Auckland, New Zealand.
Most of us who follow Jesus know that involves some willingness to stand for justice, for what's right; to represent those who cannot represent themselves.

We are less sure about how we might go about that in our ordinary lives, what it might look like in our daily living, and how to sustain ourselves and our congregations in that engagement.

Through Just Church World Vision New Zealand seeks to resource the Church in New Zealand to engage holistically and sustainably with injustice both globally and locally.
The official Just Church website
There is much more content than I've posted here, and you can also register online: www.worldvision.org.nz/justchurch
The website is clear in outlining the expectations of the event – this isn't going to be your typical church conference where you sit passively being talked to for a couple of days. I love the meal analogy used in the promo:
…You are invited to join that conversation, and to understand what is offered as being like the hospitality of a meal with many courses and much conversation, rather than a smorgasbord from which you select what you already like and speak only with those you already know.
Questions on the table
Here are a few of the issues:
What is unique about Christian engagement with injustice? What language can we use to communicate this to the secularist world outside the church?

How are mercy, charity and development different? What is the place of each in the community of faith?

What ingredients are needed to design worship that will sustain an individual's and community's engagement with injustice?

"Forgive me Lord, I've been creative again…" What do the arts and artists have to contribute to building for the Kingdom?

What is happening in churches to engage children with issues of injustice?  How dangerous is this?
Some of the contributors
Covenant for attenders
We invite those registering to join us in making the following covenant:

God helping me, I covenant with the triune God – Father Son and Holy Spirit – that my participation in the Just Church gathering will be preceded, accompanied and followed, by my reflecting on the injustice in my local, national and global worlds, and the ways I might engage with those injustices both personally and with others.