In November 2012 I gave the Baptist Research lecture at the annual Baptist Assembly (The Gathering) which was held in Hamilton, New Zealand. The recording of this lecture has recently been put online. If you'd like to hear me give an introduction to my PhD research, click the image below to have a listen – it will take you to the Resonate website that also contains the PowerPoint from my talk.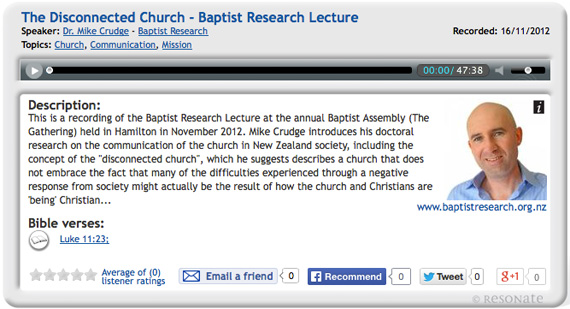 The Resonate website is a storehouse of mainly sermons recorded at many different churches around New Zealand. Baptist Research have a few lecture recordings on Resonate and I list them below:

Baptist Research (the New Zealand Baptist Research and Historical Society) state their purpose as:
We aim to resource New Zealand Baptist churches for mission by stimulating and promoting research into Baptist life, thought and history.
Click the links below to listen or download other Baptist Research lectures online.
The Baptist Research website is also the home of The Pacific Journal of Baptist Research, an open-access online journal which aims to provide an international vehicle for scholarly research and debate in the Baptist tradition, with a special focus on the Pacific region.
Baptist Research lectures online
Kingdom come: this is that, then is now
Brian Smith, Principal Emeritus, Carey Baptist College
Vessels of the Spirit: A Baptist Vision of Leadership
Martin Sutherland, Vice Principal (Academic), Laidlaw College
Baptist Leadership in a Collaborative Culture
Andrew Picard, Lecturer in Applied Theology, Carey Baptist College