I've never really felt comfortable with what seems to be an over emphasis of singing songs in what gets defined as "worship" in church services, and now I've found an ally: one of the early church fathers, [Saint] Augustine of Hippo from the 4th century.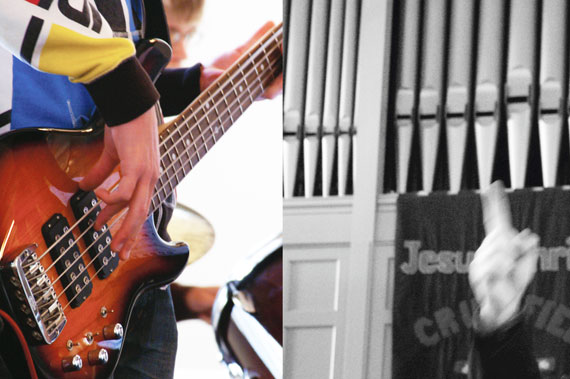 About a week ago I was driving when Radio New Zealand was playing an excerpt from Davinia Caddy's book "How to Hear Classical Music (The Ginger series)
." It was one of those moments that shed light on some of the church service things I think about. Caddy writes:
Augustine, like his Christian brothers, believed that music could hold sway over the emotions.

In a church service, songs, hymns, and psalms could enhance the religious experience, helping to revive tired souls, increase passion and piety, and further the praise of God.

But the intensity of emotion aroused by music caused Augustine some concern. Feelings of pleasure and joy may well arouse the congregation, especially the weaker spirits among it, but they may also paralyse their minds. Enjoying church music without attending to the meaning of the words being sung, gratifying the senses, without applying the mind, this was a grave danger, a grievous sin, as Augustine writes.

It was a sin that Augustine felt compelled to confess, asking his readers and God himself for pity and for mercy.

You will no doubt recognise the tension Augustine describes between listening for pleasure and listening for some sort of intellectual or spiritual improvement.
Augustine's confession
Here's an English translation of what Augustine wrote in his Confessions work:
I am inclined – though I pronounce no irrevocable opinion on the subject – to approve of the use of singing in the church, so that by the delights of the ear the weaker minds may be stimulated to a devotional mood. Yet when it happens that I am more moved by the singing than by what is sung, I confess myself to have sinned wickedly, and then I would rather not have heard the singing.  Chapter 33 (pg 146 of the online PDF translation by Professor of Theology Albert C Outler) 
The church service singalong
Many twenty-first century [Baptist] church services have a singalong component to them, usually including musical instruments such as a band or organ. Considering the proportion of time given to this singalong component, in my experience about a third of the time the gathered faith community spend together, church music appears to be very important. However, I have never heard anyone offer a warning about church music such as that above from Augustine, that it might in fact cause someone to sin wickedly.
Is it really worship?
Is all of this singing in church services actually "worship" or for some people could it be something else?
I admit to sometimes getting bored in the singalong part of church services. Sometimes I look around to see what other people are doing. I have noticed all sorts of things from people seemingly moved by the singing, to those who look like they're just patiently waiting for it to end. Occasionally I see someone on their smart-phone and I feel a sense of solidarity.
Music is good
I'm not against music, or feelings and emotions caused by it. I still consider myself a musician, and in the past I have played the trumpet and keyboard in church bands during the singing part of church services. Most of the time I enjoyed it and had a good time – practice times were a fun way to hang out with other church people. I even went touring as 2nd Trumpet in a horn section of what could have been described as a Christian ska band.
At home I usually have music playing in the house.
Nothing makes me happier than being at a Herbie Hancock concert while Chameleon is being played (I've experienced this twice), and U2 concerts are pretty amazing times that bring feelings of pleasure, joy, and wonder. I believe that my response to this music has something to do with me being created in the image of God, and that my response to this music could be a God connecting thing, which has the opportunity and potential to be an act of worship. This has been my experience.
I believe music and worship can go together.
My discomfort
But I still have discomfort with what to me seems like an over emphasis of singing songs in what gets defined as "worship" in church services. I like that Augustine had some concerns with it too. I also like that I heard of Augustine's concerns on our national radio station via a music lecturer at one of our universities.
Lets not call it "worship"
Church music that makes us feel good (pleasure and joy) without engagement with the words (paralysed minds) is probably not what people intend when they refer to the singalong part of church services as "worship".
Let's just call it singing from now on, with the hope that some people in the gathering will be worshiping God because of it. And let's make the singalong bit shorter and find other ways to worship God as we gather together. Sometimes let's not even have singing when we gather for worship – give the musos a break and find other ways to worship God together.
A resulting benefit
Music can be a very dividing thing. At the church I'm currently part of people generally choose which of two church services to attend because of the music on offer. A byproduct of having less (or no) music in our church gatherings might be the enabling of more cross-generational diversity as well as more artistic creativity.
"The music was great today"
The next time you hear someone say after a church service: "The music was great today", or even: "The music was pretty average today":
Think of Augustine and his own church music confession.
Wonder how else the gathered faith community at your place might worship God together.
Augustine had some concerns about church music, I have a discomfort about its dominance in church services, do you have any thoughts about it?
Images: Tools of church music, Mike Crudge 2010.