Last week my post Church music: a wicked sin? used a quote from Saint Augustine to support my discomfort with what seems like an over emphasis of singing songs in church services. In this post I continue that theme with a theory that explains why so many people are bored or disinterested in the singalong part of church services, which perhaps even gives reason to why some people leave the church, or why some never fully check-in.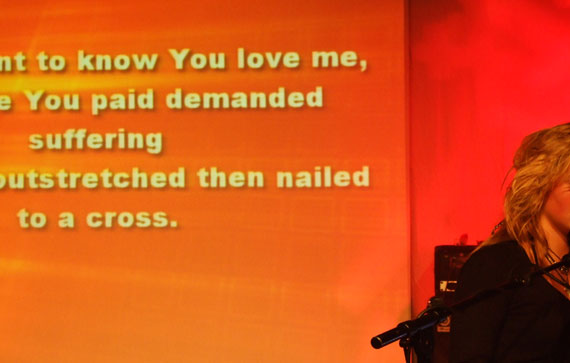 A theory I have about singing songs in church is that probably about one-fifth of people are actually "worshiping" through this activity we call "worship". I wonder if this one-fifth are people for whom "Words of Affirmation" are their primary "Love Language".
Love
One of the things I include in the marriage preparation sessions I do with couples before I marry them, is the Love Languages test – it's a bit of fun, and makes a point about communication. It comes from Gary Chapman's book The Five Love Languages: The Secret to Love That Lasts
.
According to Chapman, there are five emotional Love Languages – five ways that humans speak and understand emotional love, which are:
Words of Affirmation
Quality Time
Receiving Gifts
Acts of Service
Physical Touch
Humans have one of these five as a primary "Love Language" which is our preference in the way we give and receive love.
Singing in church works for "Words of Affirmation" people
My theory is that those with a Words of Affirmation primary Love Language, are those who find, or more easily and naturally find singing songs in church services a connecting act of worship to God. Those with other primary Love Language are less likely to find singing words a God-connecting act of worship.
My experience
Words of Affirmation is not my primary Love Language, which I think explains why in church services when the singalong is happening, I'm sometimes bored (and I admit to using my smart phone occasionally), or I'm simply enjoying the music – which is rare because the musical genres I enjoy usually don't feature in the church services I am part of.
I'm not against music, as I explained in a previous post… What happens for me is this: I can be standing in a church service singing with everyone else, screen after screen of projected words go in through my eyes and out through my mouth, with very little engagement or thought – most of the time I couldn't tell you afterwards what I had just sung. My mind does not naturally engage in this process and is often somewhere else.
Sometimes I notice the people up front leading the singing and wonder how they can do it without the words in front of them – sometimes they might sing a whole verse with their eyes shut! How do they remember the words? I don't have a memory like that, and even struggle remembering the first verse of the national anthem!
I sometimes struggle to sit though a sermon too, especially if there aren't any visual anchors (pictures, diagrams, etc) – I think I'm just not captivated by words and text like some people appear to be.
When I was a child I hardly ever read – there were too many other things to be doing! I thought my sister was so boring as she spent most of her time in her bedroom reading. When I was 9 years old my mother bought me a subscription to a weekly comic – I can see in hindsight how clever this was of her: I read those comics from cover-to-cover, it added a rhythm of reading into my week.
I certainly see the value of words, yet reading has always felt like a chore to me – albeit a chore I will always include in my life.
The word became flesh… and became word again
I sometimes struggle subscribing to a faith that puts so much significance in a book – this is such a drag for a non-words person! I love the concept and reality of "the word became flesh" (John 1.14), but why did he have to stop dwelling among us?!
The word became flesh… and became word again.
Why do we allocate so much together time to singing?
I haven't figured this one out yet. A commenter on last weeks post, Dave, suggests this about tradition:
…as tradition is what binds social groups together, it seems that the tradition of the singalong segment of a Baptist meeting is deeply ingrained in many congregations and many would be at a loss as to what to do to fill in the time [if there was less or no singing].
I don't know if Chapman's 5 Love Languages are evenly spread through the population, but I don't see why not. If this is the case, then about a fifth of people present in church services are finding the singalong an act of worship to God. Four-fifths aren't.
Maybe this is why some people leave churches or try other churches – because they're bored with so much singing! (And by "bored", I mean the result of lacking an entry point into the process, and not the result of being disinterested consumers.)
Maybe this is why some people always come to church services late – they're intentionally trying to miss out on a chunk of singing!
Maybe over time a process of natural selection has caused a dominant amount of "words" people in the church?
Sacred pathways
Applying Chapman's Love Languages to our understanding of worship fits a little bit into the "Sacred Pathways" idea from Gary Thomas. In his book Sacred Pathways: Discover Your Soul's Path to God
 different pathways of encounter with God are described, such as the naturalist, the ascetic, the traditionalist, the activist, the enthusiast, and the intellectual.
Thomas is wanting to help individuals in their personal spirituality, and just like Love Language, I suggest these ideas are helpful to consider as we put together times of corporate worship.
My theory:
That singing in church is an act of worship for some, and many will not find it an engaging offering to God.
(I appreciate that I haven't giving any alternatives: if we don't sing so much in our gatherings, what do we do? I plan to explore this question in later posts.)
Does your experience or observation affirm or reject my theory?
Click on the book covers below for more info and to purchase from the Amazon Kindle Store:
Image by Keith Riley-Whittingham on flickr.com, Creative Commons (image cropped).