A month ago I asked for some feedback in my 2014 Reader Survey. The number equivalent to about 10% of my regular unique visitors participated in the survey – I really appreciate the time these people spent giving me this kind of feedback, if that was you: THANK YOU!  This post contains a summary of the results. The list of other blogs people follow is really interesting.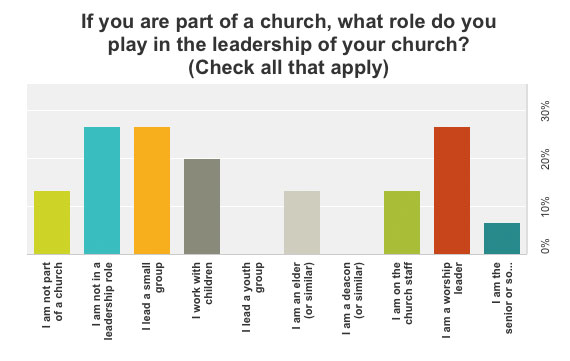 The most useful subject areas?
I try to blog on subjects to do with communication, church, and society. Of the subject categories people find most useful, "church" was most popular, followed by "society" and then "communication".
What do people like most about my blog?
Many of the responses included something like "thought provoking". Other comments that were encouraging were: the topics are current and interesting, novel ideas and approaches to situations, slightly edgy topics or approach to topics, challenging, provokes outside-the-box thinking, honest and insightful, well-structured articles often based on research and good data.
How could I improve my blog?
Several people wanted me to write more often! When I started I was aiming to post once a week, and after a year I had 30 posts, so I missed my target. Weekly posts is still what I'm aiming for and will try for 52 posts in this coming year.
The angle I take on certain issues to do with the church was commented on from the perspective of wanting me to present more positive stuff or alternatives to the critique that I often provide about the church. It appears that critique that highlights issues is fine, but some readers would like me to engage more with solutions to the problems the church faces. Along this line was a suggestion that I draw in positive changes within the church expressed or experienced from other bloggers, so connecting with others more.
Some comments suggested that I be more direct with expressing my own views rather than simply sparking up conversation by asking questions. It's my blog, some people want me to be more direct with what I think.
Technically, a few people thought my posts could be shorter (but more often), and there was some comment about having an occasionally awkward writing style, and sometimes being a bit too academic.
What other blogs do my readers follow to do with church, society, or communication?
It's really interesting to see this eclectic list which contains some friends of mine:
Social media
The most popular social media network of the people who took the survey was Facebook with 89% being active on it. Next was Google+ with 17%, with Twitter coming third with only 11%.
Gender
Of the sample, 33% were female, with 67% male.
Age
There was a fairly even spread of ages from 18-75+, but there was a clear bulge in the 35-44 group, interestingly the age I fit into.
Church leadership roles
The graph at the top of this post corresponds to this question. Of the survey sample, the top three most popular options in this question were:
I lead a small group,
I am a worship leader, and
I am not in a leadership role.
13% of respondents are not part of a church.
Church affiliation
The most common church affiliation of my survey sample is Baptist – which is where I belong at present. Other churches include Anglican, Pentecostal, Open Brethren, and independent.
Church service and activity attendance
37% of survey respondents attend weekly, 32% more than weekly, 16% 2-3 times a month, 11% monthly.
How did people find out about my blog?
61% because I told them about it! 22% via Facebook, 17% because someone else let them know about it.
How long have people been reading my blog?
72% between 9-12 months.
Who receives my weekly email updates that link to my blog posts?
61% of survey respondents have signed up for my weekly email update. If you would like to keep up to date with what I'm writing, you can sign up in the box at the bottom of this post (look for the red "Get Updates" button). The two next most popular ways people keep track of what I'm writing is through "liking" the Mike Crudge Page on Facebook, and using RSS and a reader of some sort.
Thank you!
If you took the time to fill out the survey: thank you again! While being very encouraging, I am already thinking about the suggestions on how to make this blog more helpful. I've closed the survey now and will run one again on the two-year anniversary. If you have any other feedback you'd like to make, feel free to leave a comment below, or send me an email.
Mike