Near the end of 2014 I went on a 3-week trip visiting people in India, Bangladesh, and Thailand. I wanted to travel light, and managed to do this with a daypack weighing 6.5kg. Next time I could make it even lighter. In this post I share how I managed traveling light. I would love to hear some of your tricks and tips – please share them in the comments at the end.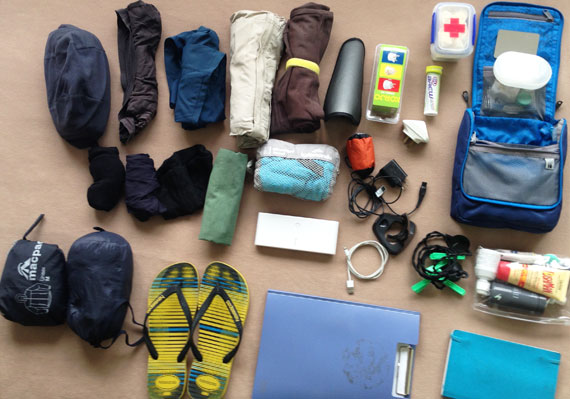 I realise this is a bit of a diversion from my usual blog topics, but I figure a lot of people interested in communication, church, and society also travel. The photo above shows the contents of my bag.
The photo below is me after 2 weeks, at Kolkata airport at 1am, carrying the New Zealand made Cactus Portal daypack, which is promoted as being:
…perfect for your round-town, to and from school, throw everything at it bag.
They could also add:
…the all you need for 3 weeks in Asia bag.
The bag itself weighs 685gm.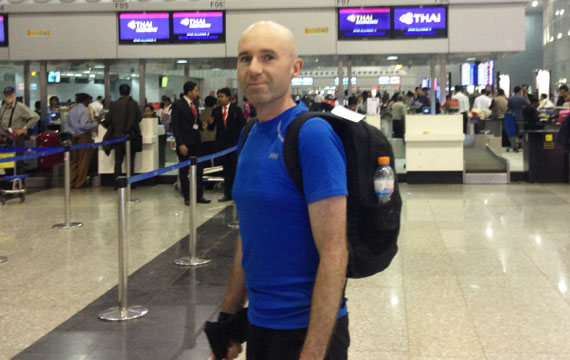 Below is my gear list. A few things to note: I didn't need to dress formally for business meetings etc. I did need to be dressed well enough to preach in a church service in Chandpur, and at a theological college in Dhaka. Another thing to note is the climate in this part of Asia at that time hovered around a comfortable 25°C most of the time.
2 sets of clothes: trousers, t-shirt, socks, undies. Since I only wear one set of clothes at a time, this means a clean set is ready for the next day. All of these clothes are made from "technical" fast-drying fabric.
Tidy button-up shirt – made from "technical" fast-drying fabric.
Warm top – I had a hoody, and an Ultra Light Down vest. I never used the vest, and the hoody was only worn leaving and arriving in New Zealand.
1 pair of boxer shorts for sleeping in.
Raincoat.
Microfibre hiking/travel towel.
Pillow case – I never used this, it was in case I came across a grotty pillow or no pillow and then I could stuff clothes in this to form a pillow.
Footware: Jandels. One pair of shoes: Merrell Jungle Moc Leather black – comfortable and rugged enough for all-day walking, looks like a tidy casual shoe when clean, being slip-on was great in these countries where shoes are removed before entering most buildings.
Electric shaver and charger.
Mosquito/insect head cover – I never used this but had planned to sleep with it over my head if needed – I didn't use any medical precautions against Maleria.
30,000mAh battery pack to charge smartphone. I never used this and wouldn't take it next time which would free up 403gm. There were always power points available.
Travel power-point adapters x3 – I used all of these across the 3 countries I visited.
Double adaptor plug – this came in handy when sharing rooms with others if there was only one power socket.
Clothes line – twisted elastic line with end hooks.
4 clothes pegs.
Plastic folder clip board thing – I had sermon notes and other paperwork that was kept organised in this. I wouldn't take one of these again and would just put up with scrunched up paper if it came to that.
Notebook and pen – I still like to actually write and draw.
First Aid kit – in a small plastic container, with a variety of drugs for things such as diarrhoea, allergies, headaches, etc. Re-hydration powder saches, latex gloves, CPR mask, plasters, etc.
Toilet bag – this contained everything that was not a liquid or gel: spare contact lenses and container, face-cloth, ear plugs, tooth brush, dental floss, bar of soap in plastic container, small nail clippers, electrolyte drink tablets, and laundry wash leaves. The first aid kit container fitted inside the toilet bag.
Clear plastic zip-lock bag for fluids and gels no more than 100ml: mosquito replant (I recommend "Bushman" brand with 80% DEET – I didn't get bitten once), stick deodorant, toothpaste, contact lens solution, eye drops, sunscreen. Not having any check-in bag meant I couldn't take any liquids or gels more than 100ml.
Smart phone, charger and cord (this was the only camera I had and only device for getting online). I also had a LifeProof case for the phone.
We were on the move a lot of the time, usually staying just 1 or 2 nights at each destination. When we arrived at the accommodation I would empty my bag and just take the bare minimum out with me during the day.
Traveling light means washing every night
Every night before bed I would wash the clothes from that day in the bathroom hand basin. I tried some "Trek & Travel Pocket Laundry Wash" which was a small container with 50 leaves, where 1 or 2 leaves were dissolved in water to clean the clothes. Sometimes I just used the bar of soap I brought. Both were sufficient.
I would then hang the clothes up in either the bedroom, outside, or in the bathroom as shown in the photo below. In this example the shower rose becomes an anchor for the line, and putting the clothes near the open window catches some airflow and heat. Note the clothes pegs – these travel lines are good, with the idea that you don't need pegs, so you just poke bits of the garment in-between the elastic twists. I have found larger garments end up on the floor, so I travel with a few pegs.
I didn't wash trousers every night – you can get away with wearing them more than once.
Occasionally on this trip there was a washing machine to use which was helpful.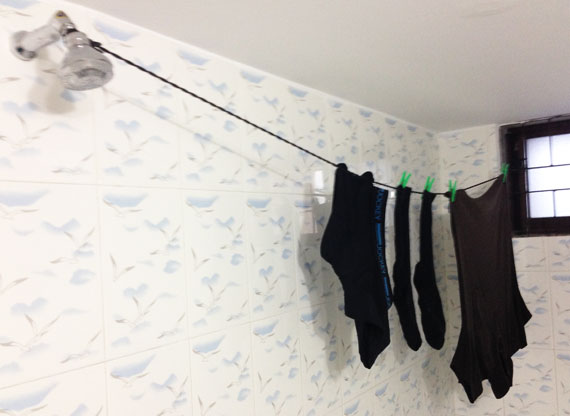 Some times things didn't dry overnight and it often worked out to leave them on the line through the day, but if not, because we were moving on, I would bundle things up damp and then hang them up again on arrival at the next destination. One time there was a hair-drier in the room, which came in handy for drying socks: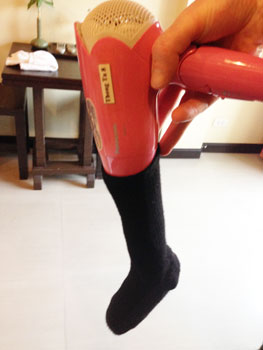 Lighter still
I didn't need everything – as mentioned in the list above. I had 3 shirts/tops and only needed 2. With my toothpaste I had worked out in advance how much I needed for 3 weeks, next time I would do this with all of the consumables so I am only carrying around what I need, for example, deodorant, sunscreen, and insect repellent. There's no point carrying around extra toothpaste that is only going to come back home after the trip! Likewise with a notebook returning with blank pages – that was a bit of a luxury.
No room for shopping
I was traveling with a group of 9 others and on the last day, after checking to see if others had spare room in their suitcases, I bought 3 t-shirts from Freeset and someone else took these home for me (I still had a week in Thailand). If I hadn't had a willing courier I wouldn't have bought them. I did fit in a bottle from duty-free on the way home. I didn't have a lot of extra room.
Conclusion
I didn't love hand-washing clothes every night, but the freedom of having everything with me in transit was worth the hassle. I was also able to give my check-in allowance away to help others: on the way our group took 60kg of books to a theological college in Dhaka – I took an old suitcase (that I left in Dhaka) with 20kg of books. The books were delivered on the second day so we didn't have to lug them around. When I left Chiang Mai at the end of the trip I brought back a suitcase full of stuff the missionary family I was visiting needed to get back to New Zealand.
This is the first time I've tried traveling so light for international travel – the experience was much better than I was expecting – I never once regretted the decision.
What do you do?
Do you have any tricks or tips you'd be willing to share in the comments below?