I've been living in Howick Village for two months. It's referred to as a village because the main street is the historical centre of this now highly populated and affluent suburb on the eastern side of Auckland. I took the opportunity as a new person in the area to visit every local church. This post is a story of my experience as a first-timer to each of these church services.
My comments here are to illustrate "first impressions" that might prompt some pondering about your own church context – so don't think this is just about Howick Village. At the end I ponder some factors people might consider when choosing a church community to become part of.
For the last six years I have walked to church services, and there is now something within me that resists the idea of getting in the car to drive to Sunday worship. After my recent shift I was legitimately a newcomer to an area so decided to check out the local churches to see what their Sunday services were like. I visited a bunch of churches I could easily walk to, arriving 3 minutes before the service started.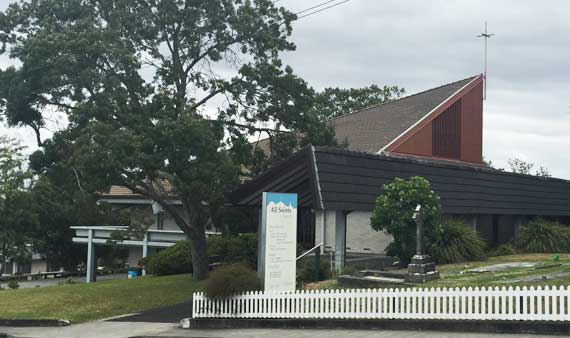 All Saints Anglican Church, 9.30am
I've only been to about ten proper Anglican church services and I appreciate this shaped my experience of All Saints – there are moments in Anglican church services that make me feel like a foreigner, where I don't know what to do, or what things are for. My comments about visiting this church need to be viewed through that lens.
Of the Howick churches I visited, to me this had the most spectacular architecture. It was built in the 1970s and has well thought out concrete blocks and beams – it's a really interesting structure to look at on the inside and the nature of it's design has purpose and meaning specifically for church services.
I'm not a person naturally drawn to words and texts which could be the reason I have never been drawn to the Anglican prayer book containing the printed liturgy for the worship service – I sometimes find it hard to keep up, and I usually find the texts are read out too fast for me to ponder the content – and what amazing content it is! This is a bit of a tension for me, and I can see the huge advantage with using a printed liturgy: every word has been well thought out and tested through time, there is no waffle, and nothing is forgotten. There is a clarity that I believe can both educate and cut to the heart. I just wish I was given more time to ponder as the service was moving along.
This church service had a family vibe to it, but more the visiting-grandparents vibe than anything else I could put my finger on. It seemed to be a child-friendly environment.
One of the hymns started out as a train-wreak simply because the organist was playing the wrong hymn and it took half a verse of singing to figure it out. We stopped, laughed a bit and started again. Against all the slickness of well practiced tradition, this little mishap added a friendly sense of humanness.
Not being used to the tradition, the practice of lining up at the altar for the Eucharist feels exposing and a bit awkward to me. The thing I find hard is how rushed the consuming of the elements feels: a sense of efficiency and order emanates from the people serving, and when it's my turn to kneel at the alter, I always feel like I have to gobble down the wafer and knock back the wine as quickly as possible in order to free up space for the ques of people waiting behind me. I'm used to doing my pondering slowly as I consume the bread and drink in my seat over a 5-10 minute period.
Another observation I've had of Anglican church services in the past is how seriously they take the Bible, always reading significant portions of Scripture in the context of public worship, and All Saints in Howick was no different. I like hearing the Bible being well-read in the presence of others.
Afterwards a very friendly senior woman had a long chat with me about all sorts of things – she was interesting and was interested in me, and this left me feeling welcomed.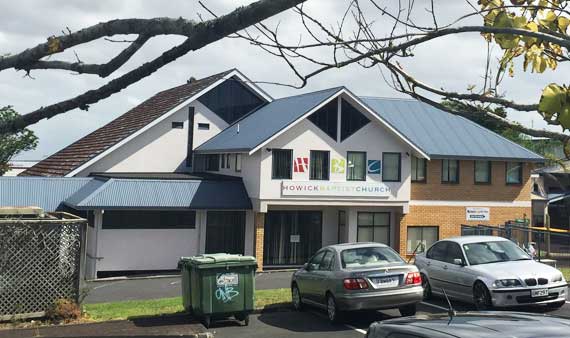 Howick Baptist Church, 9.30am
Having been a Baptist minister I was keen to visit the local Baptist church for a Sunday service. Of all the church auditoriums in my Howick Village visits, I felt the most "at home" in this one – it reminded me of the Baptist church I was part of in the 1990s (a mixture of things: the architecture, seating layout, stage arrangement…). The things we are used to or socialised into have massive influence (either good or bad) on how we connect with things, and at Howick Baptist the arrangement of things took me back to positive times.
One thing of note was the absence of women on stage in front of the microphone – there were none at all during the entire service. I'm not used to this. The person who preached also used very gender-specific (masculine) language rather than gender-inclusive. I'm not used to this either, and for me it is incongruous in this setting to the extent that it becomes a handbrake to the message being communicated.
In comparison to my Eucharist experience the previous Sunday, it was relaxing to share Communion within a tradition I am familiar with – having the bread and drink come to my seat, and being able to consume them at my own pace. What I thought was going to be the lead-in to the Communion time turned out to be a sermon. It included reflection around three different Bible texts and was quite long, and with the amount of ideas and depth of engagement, it would have sufficed for the sermon that day. However, there was still a sermon to come.
The next person who preached got up after Communion and joked about perhaps not needing a sermon this morning after the Communion spiel. On the inside I was agreeing with him – we probably didn't need another sermon this morning, but I think he was being facetious. I also felt a bit sorry for the man who did the Communion sermon for being the focus of a joke and having everyone laugh at him. As a first-timer I got the message that Communion introductions aren't supposed to be that long here, and I also wondered if it was the normal culture of this place to put people down publicly who don't follow the rules.
During the service this gathering had a specific time praying for two particular contexts beyond itself, one being for some people from this church who work on a university campus, the other for a family and their work overseas. It was very good hearing about these places and people in detail, and how this church is connected to them, and then spending time together praying for them. The impression was given that this church is locally and globally connected in specific ways.
I've expressed my concerns about church music before… and I realise the personal preference of this next statement: I find it hard to see the point of the song-leader talking a lot between the songs. At Howick Baptist this added to my overall impression that the service was long and wordy.
The church auditorium was full and the vibe was very all-age. There were also signs of natural multiculturalism. There appeared to be a strong "family" vibe during and afterwards. When I arrived the auditorium was pretty full, I sat at the end of a row beside a woman who looked retirement age. She was very friendly and made me feel welcome.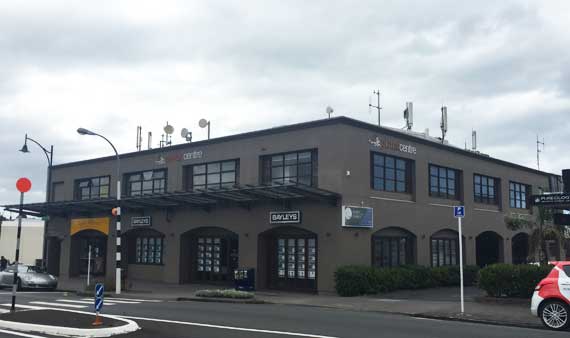 Howick Community Church, 10am
When I walked into the dark auditorium my first thought was there were too many chairs out for the number of people present. The song leader started on time to a nearly empty room. After fifteen minutes the place was full and vibrant. I was on-time and it felt odd as a first-timer walking into a room with so many empty chairs.
As I had entered the auditorium a man who looked retirement age engaged me in a brief conversation (after having passed several other friendly-looking greeters). This chat was a nice bit of genuine engagement. Soon afterwards he and his wife came and sat next to me, and at a few points through the service he whispered bits of information to me that got me up to speed with what was going on. I found this to be a positive and helpful gesture of hospitality which actually made a lot of difference to the overall impression I had of this church service.
This was the loudest church service in Howick Village – I mean the music. It was probably the most contemporary example in Howick Village of the Contemporary Christian Music genre (I say probably because I only knew one song, and I'm not the most in-touch person in terms of CCM).
The song leader was relaxed and warm, and didn't give mini-sermons between the songs. His humour was a bit flippant: when referring to there being no women in the band, he encouraged some women in the congregation to sing louder "to make up for the lack of estrogen up here [on the stage]".
A large portion of the notices time was about kids and youth activities, including an in-house created video advertising a youth group camp with footage from last year – it looked really good.
Throughout the service there was a diversity of people on stage using the microphone.
The auditorium was blacked out and lighting was used to manipulate the crowd at various stages. I personally don't see the point of these theatre-like conditions in church services largely focused around singing and preaching. At the conclusion of the service the back doors and curtains were opened and natural light came streaming into the space which I remember noticing at the time giving me that sense of "ah, the sun…".
I found the sermon to be very engaging – quite long but I never felt distracted by structure or things like inefficient waffle.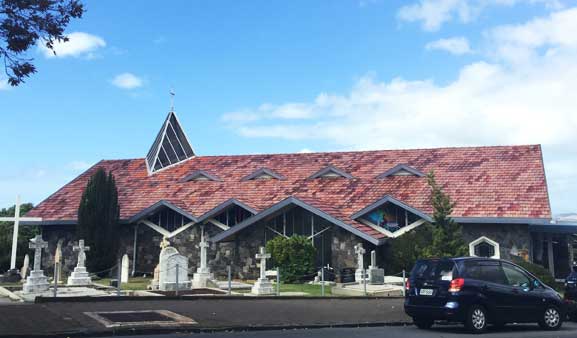 Our Lady Star of the Sea Catholic Church, special Ash Wednesday service, 7.30pm
This was not a standard Sunday church service, but a special Ash Wednesday service combined with All Saints Anglican Church. The auditorium was full, with a multi-cultural congregation.
Proceedings were formal and well organised. The handout given at the door made it clear what was going to happen.
Two things about the space fascinated me:
The setting sun created a magnificent show of one of the stain glass windows behind the altar, it was almost blinding but I didn't want to move – the illuminated artwork was a visual treat that I'm not used to seeing in church services.
The timber pews were very basic and only had varnish on the contact surfaces, leaving the other surfaces natural and raw which to me symbolised a simplicity juxtaposed against the glasswork of the windows.
There was a wide age-range of people from teenagers upwards, yet the musical genre was traditional hymns and organ. There was a combined choir from both churches, which would sometimes sing the verses of songs while the congregation sung the chorus. I found it very hard to hear the enunciation of the words being sung by the choir which often seemed to be indistinguishably horn-like (not in a bad way), with only the occasional word like "sins" being clear enough to pick up. I have a CD at home with choirs singing hymns and I find the same thing with that – my hearing isn't attuned to deciphering choir lyrics.
The sermon in this service was so well constructed – the crafting of words and ideas had me riveted throughout.
And then I was "ashed" – a weird tradition that focused me to "turn away from sin and be faithful to the Gospel".
I find Ash Wednesday and Lent helpful anchors in the rhythm of my discipleship.
I found it unusual that several times one of the priests referred to this Ash Wednesday gathering as a "celebration".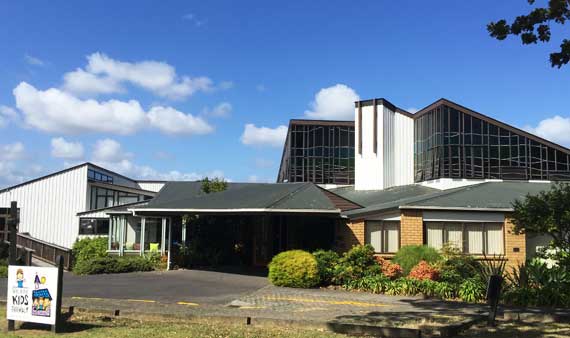 St Andrew's Presbyterian Church, 10am
The location of this church isn't really in Howick Village but it's the closest church on the fringe so I thought I would include it (it took me 30 minutes to walk there).
This is the one church service where there actually were too many chairs in the space. They were free-standing single seats, and having half the amount in the room would have created a friendlier, more intimate feeling. I was sitting two-thirds back from the front and could see more empty chairs than people. Just before the service started a senior lady wearing a name-tag came over to me, said hello and sat next to me, she was friendly and we chatted briefly.
The service started late and there was quite a bustle of people still getting ready for the service after the advertised start time. I know plenty of people don't think it's a big deal starting church services on time, it's certainly interesting watching what's going on during this time from an organisational perspective. I've suggested in another post that I think some people turn up to church services late because they want to miss some of the singing, and interestingly, on this day at St Andrew's, the notices were the very first thing in the order of service which meant plenty of people missed them because they hadn't arrived yet.
This was a service of two distinct parts, divided by the children leaving to their separate programme about 30 minutes into the service. This was done very well, in that the first part, with children in, had a great family vibe, where children were actively included and seemed happy to be there as participants.
I'm not big on puppet shows in church services, but in this service I was shown how good they can be. There was a Muppets-style puppet who was clearly a regular feature. In this part of the service the song-leader gathered the children to the front and she then had a conversation with the puppet – which at that moment took me back to my childhood where I remembered watching the Muppet Show on television – remember they had a guest celebrity on each show who would have the occasional chat with Kermit the Frog or some other Muppet.
In this moment of the service, the song-leader had a very natural conversation with the puppet (who was being silly and funny), about an aspect of Lent which was very cleverly educational. The kids were lapping it up.
After the children were sent off to their own programme, there was a very clear change of gear in proceedings, which to me at that moment accentuated the sense of inclusion of children in this worship time together.
A big standout was a focus on mental health in the prayers-for-others slot, particularly different angles around families where mental health is something they face everyday – I can't remember hearing that prayed for in corporate worship before.
The sermon was content-rich and partway through I intuitively had the urge to pause it so my thinking could catch up (I sometimes do this when listening to pod-casts…). The preacher hooked in really well some global issues that were headline news during the week, he did a good job of the "Bible in one hand, newspaper in the other" idea that theologian Karl Barth is attributed to have said.
My visit was on "Quarterly Communion" Sunday, and the process of communion was explained very well so I was not left wondering what I was supposed to do.
Of all the church services I visited this one had the most diverse range of people doing things from the front.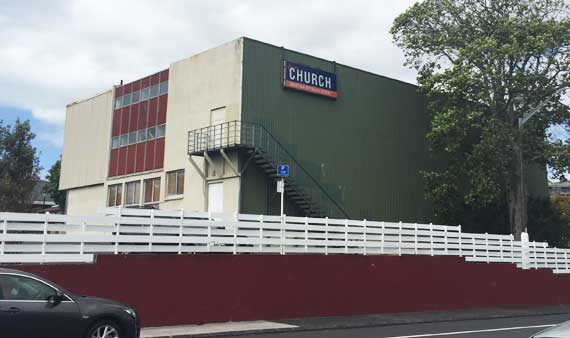 Christian Outreach Centre East Auckland
This church is listed online on many information and business directory websites, and their building still has obvious signage, but there's no one home. Up close the building looks deserted and there is no specific information about the church. This goes to show not everything on the internet is true.
Some general comments
Greeters (or whatever you call the people at the door giving out the bulletin). I feel ripped off if I don't get some eye-contact. I also feel ripped off if the person handing me the bit of paper is busy talking to other people. If door people don't come across as friendly and hospitable I would rather have a small stand or table at the door with a pile of newsletters with a sign saying "please take one".
Some of the door-people/greeters I came across in Howick, regardless of how fleeting the moment of engagement was, gave me a sense of connection that drew me into the place. Others may have created a better sense of hospitality had they not been there.
A lot of land in Howick Village is elevated and has a sea view over the Waitama Harbour. Some of these church buildings I visited could have been built in such a way that while we are sitting in church services, we could have been looking out to a great view. Some seats in All Saints allow you to see this view. I remember participating in a church service at an ecumenical chapel at Lake Rotoiti in the Nelson Lakes District. Behind the pulpit and alter is a large floor-to-ceiling window exposing a view that looks through native bush onto the lake and mountains. It is spectacular and awe-inspiring – an easy way of directing gathered worshipers to God through natural revelation. Some of these Howick churches have missed a great architectural opportunity.
How would a new person to Howick Village choose a church?
I'm assuming here that a new person to Howick might already be a church-goer. I'll let you reframe these ideas for those who become Christian and are looking for a church, or those exploring spirituality.
One of my biggest conclusions from these one-off visits hinges around musical genre – which I think needs some theological reflection. You would need to appreciate loud CCM to make one of these churches your home, or what to me seems like old fashioned choir music and organ for another. Is this a good reason to choose a church community to be part of? Or is it simply consumerism?
But actually, music aside (I could stomach it all if there were other reasons for connection, which we know there must be), I could choose to make any of these churches my 'home church'. I have plenty to contribute that could be useful in any of them, and there are people in them all that would be good for me to be in faith-community with.
All of them would have some ecclesial and theological issues that I would struggle with, and some of them may find some of my ecclesial and theological views a struggle if I was to join them. I'm left with these questions of myself:
Does music really matter?
Could I be part of a faith-community that didn't value the leadership of women?
Would I overcome my sense of 'local' and get in my car to go to a church service that had more people like me?
Do I value a diverse family vibe or culture over other things on this list?
Do I value well crafted sermons and teaching more than other things on this list?
How much does an obvious corporate connection to the world through worship expose of a faith-community?
How much does friendship and hospitably to the stranger expose of a faith-community?
What's it like for first-timers at your church services?
If you're interested in how church services can be more welcoming to first-time visitors, check out my recent review of the book: Unwelcome: 50 ways churches drive away first-time visitors.