This weeks Media Take programme on New Zealand's Māori Television took a look at Christianity in New Zealand with reference to the Easter holiday last weekend. It's 26 minutes long and worth a watch if you're interested in some divergent views on a few things Christian from five NZ Christian voices.*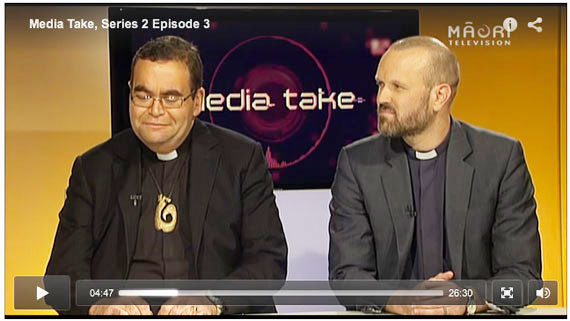 The show is in two parts, firstly with the co-hosts Russell Brown and Toi Iti talking to Wesleyan Methodist minister Francis Ritchie and historian and Anglican priest Hirini Kaa. The second part has Brian and Hannah Tamaki of Destiny Church and Clay Nelson minister at the Auckland Unitarian Church. It's quite a nice snapshot of the diverse Christian voice in New Zealand.
NewsLeads
Francis Ritchie introduced a new initiative called NewsLeads which among other things appears to be a chaplaincy provision to those in the media.
Māori spirituality as poetry
The co-host, Russell Brown, self-defined atheist, made some interesting comments around a connection he has with Māori spirituality that he doesn't have with Christianity, this was to do with some comments Hirini Kaa made.
New Zealand should be a Christian nation
It was interesting to see how Christendom-centric the world view of the Tamaki's is. They think New Zealand should be a society that claims Christianity as its national religion (NZ has never had a state religion), and they doubt the accuracy of the census results that show a decline in Christian affiliation in New Zealand.
Separation of church and state
Clay Nelson is at the total opposite end of the spectrum to the Tamaki's and it was a shame there wasn't more time for these three to compare their differences on air in a way that didn't require defensiveness from any of them.
* viewing the video outside of New Zealand may require the use of a VPN.